Well, not rich in the financial sense, but rich in social capital and other rewards.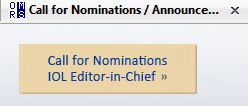 INFORMS is looking for the next editor of INFORMS Online.  I was the founding editor of IOL, with a term from 1995-2000, and it was one of the formative experiences of my life.  I learned a lot about operations research, INFORMS, organizing things, inspiring people, and myself during that time.  In that time, the IOL team took INFORMS into the internet age.  A person I admire greatly said that the best part of the merger of ORSA and TIMS (the predecessors of INFORMS) was that something like INFORMS Online could happen and I am very proud to have been part of that.
Back then, in the dark ages, the job of Editor was very hands-on.  The editorial team and I hand-coded much of the visible portions of IOL.  We installed database programs and wrote codes that handled the membership directory and the conference database.  In short, we did a lot of grunt work.  You can still see some remnants of that period:  if you go to IOL and check the tab on your browser, you will see a little square icon saying "OR/MS" in white and blue (you can see it on the graphic next to this post).  I hand-created that, picking out the blocks using a freeware icon editor in 1997 (when Internet Explorer 4 was released, supporting such icons).  It is still there:  my little bit of fame on the internet.
The job of editor of IOL is a lot different now.  Between INFORMS's wonderful staff and IOL's content management system, there is little actual coding done by the editor.  Instead, the editor and his or her team gets to think of all the ways that IOL could be used to advance INFORMS and the field of operations research.  How can we create real communities?  What services do subdivisions need that IOL can provide?  How can we better advertise all the wonderful things our field does?
Being Editor of IOL lets you meet with a wide variety of people in operations research (and become a little famous along the way).  It does take work:  we estimate it takes around 4 hours per week, but the effort depends on the goals and aspirations of the Editor.
If you are interested, nominations are due by the end of August.  And self-nominations are perfectly fine, and even expected.