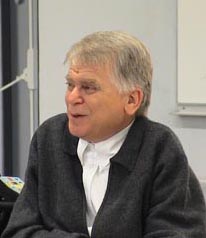 It is with great sadness that I pass along news of the death of Peter Hammer. Here is the announcement I received from Endre Boros:
It is with deep sorrow that I have to inform you of the tragic death in a car accident of Professor Peter L. Hammer on December 27, 2006. His wife Anca, the only other passenger in the car, is recovering from minor injuries.

Below is information on the funeral for Dr. Hammer.

The funeral will take place on Sunday, December 31, 2006, at 1pm. The location is the Princeton Cemetery (29 Greenview Ave Princeton, NJ 08542) .

Telegraphs or cards can be sent to the family (wife Anca, and sons Alex and Max) at 19 Littlebrook Road North, Princeton, NJ 08540-4063.

Flowers can be sent to the Princeton Cemetery, 29 Greenview Ave Princeton,
NJ 08542.

Directions to the Princeton Cemetery: From Nassau Street (the main street of Princeton, State Rt. 27) turn onto Vandeventer Avenue (opposite to Washington Avenue), after 0.2 mi (at the end of Vandeventer) turn left on Wiggins Street, and then immediately (128ft) right onto Greenview Avenue.
Peter has been an amazing force in our field, and an inspiration to all of us. His passing is a tremendous blow, both personally, and to the field.
Added January 4
Rutcor has a page on Prof. Hammer.  It includes the following:
His family collects stories, facts, thoughts, feelings, and even rumors about Peter L. Hammer. Please email your comments to: maximhammer@yahoo.com.

Contribution in His Memory may be made to:

Post-Polio Health International (PHI)
4207 Lindell Boulevard
St. Louis, Missouri 63108-2915
USA

either by writing a check to Post-Polio Health International or directly through their website http://www.post-polio.org/don-mem.html

Please, kindly mention "In Memory of Peter Hammer".