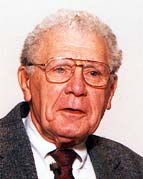 Russell Lincoln Ackoff passed away October 29, 2009.  Ackoff was one of the most controversial researchers in operations research.  A prolific writer, his early work was pure operations research, as it was understood in the early 1960s.  Ackoff was an early (1956-57) president of the Operations Research Society of America (ORSA, a forerunner of INFORMS) and co-wrote an influential textbook on operations research with Churchman and Arnoff in 1962.
By the late 1970s, Ackoff was disillusioned with operations research, penning articles with titles such as "The Future of Operational Research is Past".  Kirby has a nice article outlining his changing views.
I have a number of Ackoff's books and enjoy his writing very much.  I particularly enjoy "The art of problem solving (accompanied by Ackoff's Fabes)", which contains a number of stories that I use in my classes.
I was a teenager when Ackoff split from operations research, and the issues Ackoff brings up do not resonate with me.  There are lots of ways to solve problems.  Not every business problem is a linear program.  But not every business problem can be solved by bringing together a dozen people to draw circles and arrows.  Operations Research has its place, as does the direction Ackoff went in.
Criticism from a source as well respected as Ackoff has been salutary for the field, I believe.  Understanding the limits of what we do is as important as understanding our successes.  While perhaps Ackoff could have headed off in new directions with a little less rancor, our field is richer for having had him both within it, and outside of it.
But I think the best of operations research is still to come.