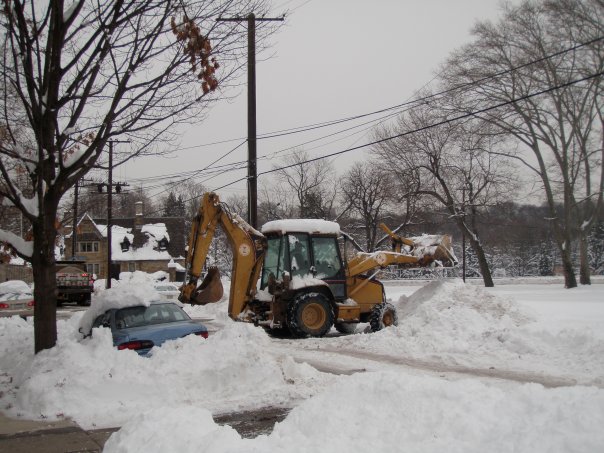 In my last post, I was grousing about being snowed in (Carnegie Mellon has been canceled three days and counting) and the need for more operations research in these sorts of situations.  I am pleased to see that my own university is taking up the challenge.  CMU President Jared Cohon has offered the services of the university to help the city create a state-of-the-art planning and operations system.  From an article in the Pittsburgh Post Gazette (and thanks to @bryanroutledge for pointing this out):
[Pittsburgh City Council Member] Mr. Peduto said CMU has offered to marshal faculty, staff and and students to create a "state of the art" snow removal tracking system that identifies priority areas for snow removal, maximizes the use of city equipment and follows through after emergencies with studies to guide budget decisions. It could also include geo-tracking of snow plows and treated streets, which is used in Maryland and elsewhere, he said.

The offer includes help from "the department of engineering and of computer science, the Heinz School" and other CMU departments, said Mr. Peduto, whose district includes the Oakland campus. "They've offered the full services of the university to create a better system."
Snow removal has certainly been looked at by those in operations research. For instance, James Campbell of University of Missouri-St. Louis has been working on these problems for more than fifteen years. Even earlier, in 1976, Gene Woolsey wrote on snow removal in a delightful Interfaces article entitled "Three digressions on the routing of trucks" (the article is also available in the wonderful book The Woolsey Papers). In the article, Gene writes about giving a talk to city managers in Colorado:
After my speech, a city manager approached me with the following problem he had been facing for some time. It seems that the city council in his city had some years ago cleverly set the tim for council meetings at 6:00AM on alternate Tuesdays. The reason for this time should be immediately obvious, as it assures that only the citizen who is really upset will rise up to vent his spleen at that hour.
Unfortunately, when it comes to snow removal, lots of people rose early to complain. Gene's solution?
Find out how the council members get to the council meeting from their homes, and clear those streets first. If you are not already doing this, and you do it in the future, I suspect that the complaints will go down.
That is really an OR snow job! If I had to guess, Pittsburgh discovered this plan years ago. This week's storm suggests the need for a somewhat more all-encompassing approach.