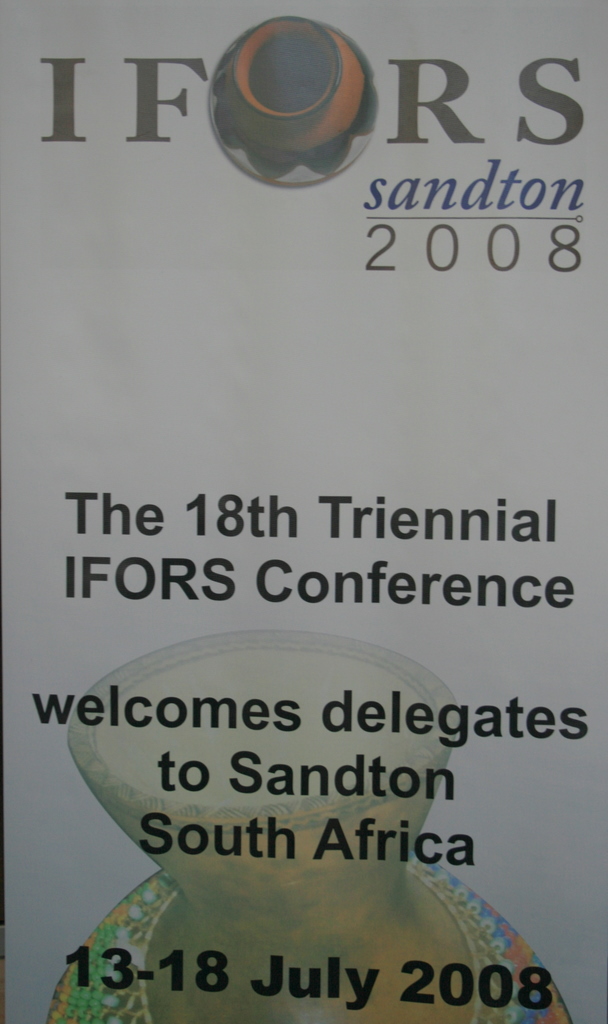 After a somewhat rocky start (an electricity substation in Joburg failed, resulting in large traffic delays, so the student assistants were late so the rooms didn't have computers on time), the IFORS conference officially opened with a fantastic opening session. Of course, I am biased, since I am on the IFORS board with responsibility for meetings. But I do think it went very well.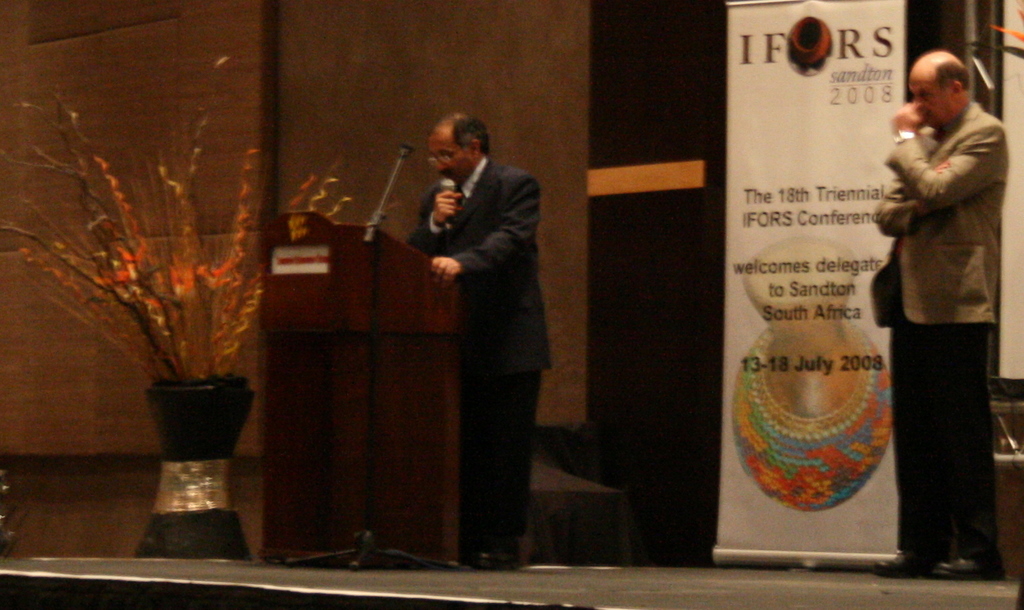 First, there was dancing and singing by a choir and drums which set the African mood. Then Elise del Rosario gave a terrific welcome, talking about the promise of Africa and the role operations research plays in achieving that promise. This was followed by a welcome by the Minister for Science and Techology, Mosibudi Mangena. Minister Mangena is one of us: he has a masters degree in applied math, and he gave a talk that suggested he understood operations research. As a colleague said, the talk also suggested a speech writer familiar with the Science of Better web site. The minister took the opportunity to tweak Hans Ittmann, Organizing Chair for the conference, for not offering enough operations research to his department. Hans promptly promised to work hard to embed OR throughout the South African government. Could people even 15 years ago imagine a South Africa where an esteemed black Cabinet Minister would tease a (white) operations research professor about the role operations research plays in the government? I will write later about how I feel holding a conference in South Africa at this time, but I loved the exchange.
One person who gets credit in South Africa for the amazing transformation over the last two decades was the opening speaker Clem Sunter. Clem is a Brit who has been in Africa for 35 years, working for the Anglo American Corporation and more recently heading up the Anglo American Chairman's Fund, a corporate social responsibility fund.
Clem does "scenario planning" and has been described as Africa's Alvin Toffler. In short, he is a futurist. In the 1980s, he developed two scenarios for South Africa. The "High Road" was a South Africa transformed by negotiation leading to political settlement (I do not need to remind people that South Africa in the 1980s was torn by the odious apartheid). The "Low Road" was confrontation leading to a wasteland. He talked about these scenarios to both FW de Klerk, leader of the National Party, and the imprisoned Nelson Mandela. Mandela and de Klerk shared the Nobel Prize for their combined work to end apartheid.
Clem opened his talk by suggesting scenario planning is like poetry, where operations research is like an essay. He uses possible futures to frame debates about where companies, countries, and societies are going. When speaking about South Africa, he clearly sees the problems: crime, HIV/AIDS, and a declining infrastructure for some. But he also understands the strengths: resources, tourism, and its role (like that of Dubai in the mid-east and Hong Kong in Asia) as a gateway to Africa. In his view, one key to success is the turnaround in Zimbabwe. He believes that President Mugabe is in an endgame, and once he is gone, tremendous investment will flow back into Zimbabwe, with much going through South Africa, and with much of the rebuilding being done by South Africans.
I must say I am not a great fan of futurists. They are either so vague they become like horoscopes in that you can read almost anything into what they say, or make so many "predictions" that almost any future will have been predicted by them. Clem seemed more thoughtful on the purpose of scenarios. He has scenarios not to predict the future but to frame the debate. It is in this approach that he sees poetry in scenario planning.
There was a terrific question right at the end of the talk (if anyone noted who asked the question, please let me know September 8 addition: asked by Jonathan Rosenhead of LSE) about the role of operations research in scenario planning. We do scenarios all the time: we create stochastic models of the future and simulation then provides us with scenarios that we can optimize over. How does this relate to Clem's use of scenarios. He said that there was a large difference, whereby his scenarios change conversation while technical scenario building has not had the same broader impact. And, he said, there is a Nobel Prize in the waiting for someone who combines the two. You can find out more about Clem and his thoughts at a website for him and his colleague Chantell Ilbury
I enjoyed the talk a lot, and learned a lot about South Africa and the challenges the country faces. And I was a little inspired to think about how the things I do can change conversations. I am sure there are differing opinions, since this was not a typical OR talk.
Unusually for an operations research conference, not a single person (out of 500 or more) left the plenary once Clem began speaking. That is the sign of a successful opening plenary!
Up tomorrow, back to traditional OR with one of my favorite people in the field (and my co-advisor 20 years ago), Don Ratliff from Georgia Tech on Lean Supply Chains.