Back in 2010, Canada's  goal was to "own the podium" at the Winter Olympics.  What "owning the podium" meant was open to interpretation.  Some argued for "most gold medals"; others opted for "most overall medals"; still others had point values for the different types of medals.  Some argued for normalizing by population (which was won, for London 2012, by Grenada with one medal and a population of 110,821, trailed by Jamaica, Trididad and Tobago, New Zealand, Bahamas, and Slovenia) (*). Others think the whole issue is silly: people win medals, not countries.  But still, each Olympics, the question remains: Who won the podium?
I suggested dividing the podium by the fraction of "reasonable" medal weightings that lead to a win by each country.  A "reasonable" weighting is one that treats gold at least as valuable as silver; silver at least as valuable as gold; no medal as a negative weight; and with total weighting of 1.  By that measure, in Vancouver 2010, the US won with 54.75% of the podium compared to Canada's 45.25%.  In London 2012, the US owned the entire podium.
The Sochi Olympics have just finished and the result is…. Russia in a rout.  Here are the medal standings: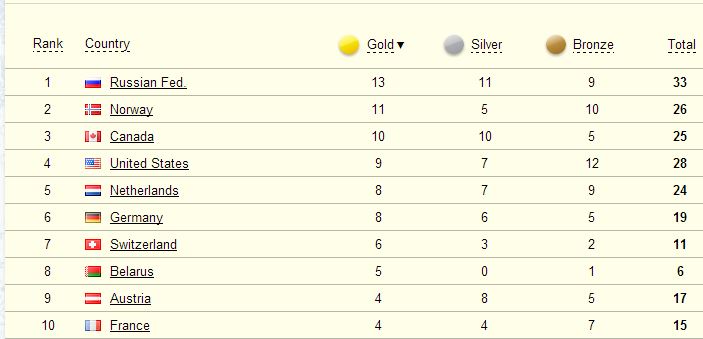 Since Russia has more Gold medals than anyone else plus more "Gold+Silver" plus more overall, there are no reasonable weightings for gold, silver, and bronze that result in anyone but the Russian Federation from winning.
Nonetheless, I think Canada will take golds in Mens and Womens hockey along with Mens and Womens curling (among others) and declare this a successful Olympics.
———————————————————————————
(*)  I note that some sports limit the number of entries by each country, giving a disadvantage to larger countries for population based rankings (there is only one US hockey team, for instance but Lithuania also gets just one).